Violent incidents at schools have become all too common. As a result, elected officials, law enforcement and school administrators are always looking for an effective, non-lethal solution to keep students and faculty safe.
While the media focus is on high profile incidents such as Columbine, Virginia Tech or Sandy Hook, the sad reality is there are over 1,000 assaults, aggravated assaults, and dangerous incidents that happen on a nearly DAILY basis IN our schools around the country. Local officials and parents know the dangers students face. It's time we do something to reduce the level of fear, injury and liability in our schools.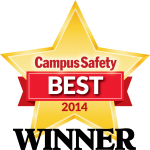 In New Jersey, a task force has been meeting to determine whether to use armed or unarmed guards to prevent violence in schools. In Modesto, California, the school district is hiring security guards to protect campuses after the Modesto Police Department eliminated its school resource officer program.
These are the decisions being faced by schools around the country. That's why we at Guardian 8 have developed an intermediate solution to security. The Pro V2 is an Enhanced Non-Lethal (ENL) defense device that can be used by anyone with proper training.
The Pro V2 provides layered protection starting with a red laser beam that is pointed at the aggressor. When the situation reaches the next level, a Bluetooth communication link is activated connecting the security officer with another party (supervisor, law enforcement, etc.) to alert them of the incident. This can help alert school officials to the incident before it gets out of control.
If the situation escalates to the next level, the Pro V2 user can discharge a stream of pepper spray to stop the aggressor. One of the most important features of the Pro V2 is that when activated, the device provides both an audio and video recording of the incident.
As you consider ways to protect schools, I encourage you to look at the benefits of the Pro V2 as an intermediate option between armed and unarmed security personnel. We would be happy to answer your questions or schedule a demonstration.
Guardian 8 is working to make the private security industry safer, stronger, smarter and better.
To learn more about how the Pro V2 operates, view this short video.