ProV2 is the best Non-Lethal option for security and law enforcement.
Prevent, defend & record incidents all with one device
Wireless
Connect to mobile phone via Bluetooth
Outbound Calls
Program device to call number of your choosing
Record
Record audio & video of incident
Warn
Strobe light and siren used to diffuse situation
Pepper Stream
Controlled stream - No spray in HVAC system
What's Between Unarmed and Armed?
For decades, security response was limited to two types with vastly different (and risky) results: armed or unarmed. Now there is anINTERMEDIATE choice: a safer, smarter and stronger non-lethal defensive option that is changing the way security teams respond and prepare for incidents.
Guardian 8 Corporation is the developer and manufacturer of the Pro V2, an Enhanced Non-Lethal (ENL) defense device designed for professional security officers. The Pro V2 is an intermediate solution that bridges the gap between unarmed and armed security, so it allows officers to protect themselves and others effectively without resorting to lethal force.
Who Is Using Pro V2 For Intermediate Response?
used Pro V2 to gain compliance from a threatening patient, averting a potential violent incident. That's what happens when officers are equipped to respond with confidence.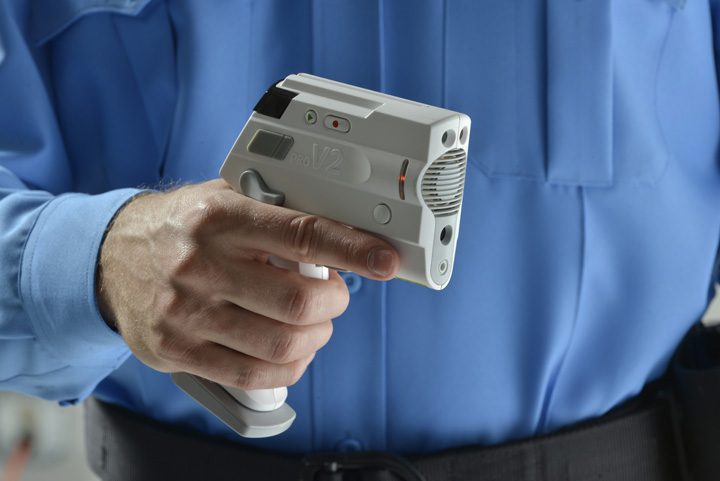 CHICAGO NEWS 08/31/2017, 06:20pm From: Chicago Sun Times Chicago taxpayers will spend $9.5 million to compensate a man who can barely move and cannot talk after hitting his head on the pavement while being jolted by a police Taser. The incident occurred in July 2011, while Jose Lopez was being treated for chest pains by Chicago…